Presentation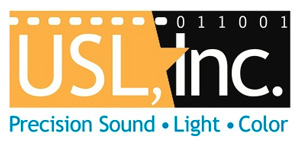 7.1 channel surround sound produces greater surround envelopment and depth for movie effects and musical ambiance.
USL is engaged in the manufacture, research and development, and sale of motion picture sound, audio equipment, sound process controls and visual test equipment. The Company through direct sales and its dealer network provides equipment to most major studios and theater chains. In addition, USL's equipment and products are utilized by independent theaters, production companies, and sound stages. Under the USL name and trademark, Ultra*Stereo equipment is sold and used in every country in the world.
The following Fridley Theatres offer 7.1 Channel Surround Sound:
Paramount 7 | Indianola, IA
Plaza 9 | Marshalltown, IA
Palms 10 | Muscatine, IA
Copper Creek 9 | Pleasant Hill, IA
Southpark 7 | Spencer, IA
---
NEC 4K projectors are designed for auditoriums with the largest screens to offer the brightest image, precise resolution, and high contrast images with breathtaking 3D capabilities.
NEC Display Solutions designs, produces and delivers leading-edge visual display technology for a wide variety of markets. They specialize in desktop and large-screen LCD displays, and a diverse line of projectors for customers who demand the most high-quality, reliable display solutions to meet their needs.
The following Fridley Theatres offer 4K:
Paramount 7 | Indianola, IA
Plaza 9 | Marshalltown, IA
Palms 10 | Muscatine, IA
Copper Creek 9 | Pleasant Hill, IA
The Palms Theatres & IMAX | Waukee, IA